Last week I came down with some sort of nastiness. A cough that still won't go away and a fever that peaked at 101.
I had been planning on driving to San Diego for a few days and then heading north up the Pacific Coast Highway during my days off, but I was afraid that I wasn't going to have the energy to do all of that, so I decided to just go to San Diego and hang out with G. Unfortunately G had to work every day that I was there, but since they were just 8 hour shifts, we found plenty of time to hang out.
Day 1 we grabbed some lunch and a few beers at The Belching Beaver, a bar not to far from where G lives. Beer selection was good and food came from a food truck out front. I had a Bison Burger. It was quite delicious. Later we had to run a few errands and drop G's fiance off at the airport. She left Patton, her epileptic cat with us. He's kind of cute.
We ended up going out that night with a few of G's friends. Not sure about what to do for day two I started asking. The general consensus was that I should grab breakfast at The Mission and then try to go hiking at Torrey Pines. Sounded like a good plan to me.
I was feeling Mexican, so I had Ranchero Verde. Pretty yummy. I then set off to find Torrey Pines. I'm pretty sure I parked in the wrong area because my walk to the hiking area was a bit longer than expected, but it was along the beach, so there's nothing wrong with that.


I walked down the beach until I saw stairs going up into the bluff, just the landmark I was told to look for. Once up, the environment changes quite a bit and becomes almost desert like. It was very pretty. I'm glad that I went on a weekday though. It was busy and I can't imagine what it would be like on a weekend.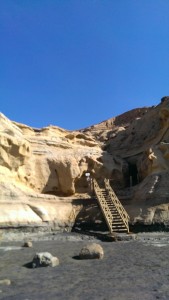 After the hike, as I headed back to G's house, I decided to stop at a recommend food truck for some fish taco's. I had noticed Kiko's place before, but hadn't given it much mind until it came highly recommended. I've been in California for almost 3 months now and I hadn't had a fish taco yet. I ordered a classic fish taco and a shrimp taco. I wanted to try octopus, but they were out that day. I went back later on another day just for octopus, and they were out again, so it must be really good. I'll have to try again next time I'm down.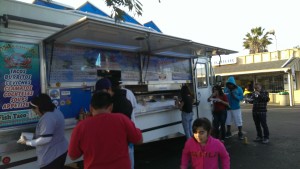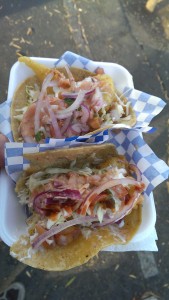 That night G was pretty tired from work, so we hung out at his place, ate some leftover burgers. I found out that he had never seen "The Great Escape," so we rented it and watched that. I began to plan my next day.
For Day 3 I decided that I needed to finally visit Balboa Park and hit up the art museum. The drive to the park was a lot shorter than I expected and the park was much cooler than I thought it would be. Built in the 1920's in the Spanish style, it almost feels like you've been transported back in time. I took lots of pictures, but the angle of the Sun made most of them wash out.
You never hear much about the San Diego Museum of Art, but I was surprised at how good it really was. The building is on the smaller side, but it's laid out well and has a nice collection. I wasn't expecting to see much from famous artists, and was surprised when I started noticing so many. Dali, Magritie, Renoir, Picasso, Degas, Rivera, O'Keefe and Gauguin were all represented. Color me impressed.
When I was done at the art museum, I still had a little bit of time, so I walked over to check out the Japanese garden. I've always liked Japanese garden's and this one was quite nice. Larger than many and in the process of being expanded. I think that when they're finally through with it that it was be quite nice indeed.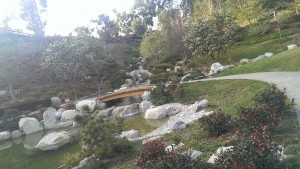 Day 4 G didn't have to go into work until 10pm so we slept in a bit hoping that there would be enough wind to go sailing. Things were looking dim when we decided to grab lunch at the local Carnita's Shack, a place I'd been hearing about for weeks now. We shared the pork belly appetizer and I had the Triple Threat Sandwich. It was delicious, composed of pulled pork, schnitzel and bacon, but sat like a brick in bottom of my stomach. By the time lunch was done the wind had picked up enough to take a boat out. It's the first time I've been sailing.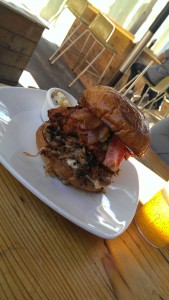 We rented a 22 foot sailboat and headed out. At first the angles that the boat leaned to were uncomfortable, but I adapted pretty quickly. G operated the main sail and taught me how to work the jib. We coordinated and I feel like I became somewhat proficiency at tacking maneuvers. Quite thrilling.
After sailing we drove over to Mission Beach and went for a walk. It was a great afternoon. Mid 60's and large swells crashing into the beach. We walked up the boardwalk all the way to Pacific Beach when we saw "World Famous" a restaurant that had been recommended to us for their lobster taco's. We figured we may as well check them out. Luck was on our side. The Happy Hour special was Lobster Taco's for $1.75 a piece. I was still pretty full from lunch, but when faced with discount lobster taco's one must partake. I had two. They were delicious.
We made it back to G's place after dark and I was feeling pretty tired, so I took a quick nap before I had to load up and drive back home.
All in all it was time off spent well. Next week I have another stretch off and if I'm feeling better, I'm going to take a drive up the Pacific Coast Highway.
Wish me luck.