A few weeks ago, I loaded up the car and took the trip that I've been wanting to take since I first found out I would be in California. A trip up the Pacific Coast Highway.
After a couple nights of reading and planning, I felt like I was ready. I didn't want to do too much planning as I wanted the trip to still feel spontaneous and flexible. My rough plan was to hit up the PCH in Santa Monica and head north. I wanted to see Solvang, Hearst Castle, Elephant seals of San Simeon, and the Monterey Aquarium as well as a restaurant or two. The main attraction would be the road and I had four days with it.
I woke up on day one ready to go. It's a bit of a drive to LA for me and wanting to avoid rush hour, I didn't leave until almost 9am. There wasn't too much traffic until I got to Santa Monica, where it really picked up. It continued to get worse once I hooked onto the PCH and really started to frustrate me. I started to feel like I should have connected to the PCH further north. Being surrounded by traffic was making me feel irritable and hurried. I headed north through start/stop traffic.
I wanted to keep this trip fairly simple, so I had decided not to use my GPS. I was going to rely on road signs until I needed to navigate through a city to a specific location. The basic plan was to head north past Santa Barbara and then head inland for a bit towards Solvang, a Danish looking town complete with windmills. After Solvang I was going to continue north towards Cayucos where I had heard about a small smoke shack on the beach that sells smoked fish tacos.
My trip was taking longer than expected and I was getting hungry, so I stopped in Guadalupe, a small farming town, for some tacos. It was while I was there that I consulted my phone and realized that I had missed Solvang by quite a bit. Further irritated, I continued north for fish taco's that I was no longer hungry for.
The PCH follows the coast again at Morro Bay. When I was a kid, we lived in Bakersfield briefly. Wavelengths was a store that I wanted to buy all my clothes at. It specialized in Skate/Surf apparel, and wanting to fit in with Cali culture that's what I wanted. I distinctly recall that the original store was in Morro Bay. So out of curiosity, I stopped to check it out.
Morro Bay is a small beach town, home to Morro Rock. It's actually quite beautiful and I'm sure relaxing if you have time to spend there, but I was still feeling rushed from being stuck in traffic for so long and irritated for missing my first point of interest. For a vacation, I was not in the right mindset.
Just north of Morro Bay is Cayucos, home of Ruddell's Smokehouse. I was still full of mexican food from my stop in Guadalupe, but I couldn't drive by without trying at least a taco. If I'm good at anything, it's gluttony, so I stopped in. After a discussion with the man behind the counter I settled on a smoked Ahi taco. I wasn't sure of what to expect.
The taco was quite good. It was served with crunchy fresh lettuce, a mayo based sauce, and apples, all which played very well with the smoky flavor of the fish. I was just wishing that I hadn't filled up on mediocre mexican food an hour earlier.
Thirty minutes north and I was in San Simeon, home of the Hearst Castle. From here there's not a lot of population until Monterey. There are only a few hotel options, but using my trusty phone I was able to find on with a reasonable rate and book a night last minute. I checked in, dropped my bag off and decided to drive a bit up the road to see what kinds of pictures I could take. As the sun was setting, I found a small beach with a pier and managed to take a few shots. The next morning would be Hearst Castle.
I awoke the next day not feeling quite 100% yet. I had been planning on making it to the visitors center in time for the first tour, but ended up lying around for a couple of hours until I felt a little bit better.
There are several tour options, each starting around $25. I opted for the "Grand Rooms" tour as it's recommended for first time visitors. I climbed aboard the bus that took us on a 15 minute ride up the hill to the home. I was surrounded by annoying idiots. When we disembarked and met our guide I realized that she was also an idiot. The tour was rather short and I felt claustrophobic, surrounded by amateur photographers shuffling about in your personal space with no regard for social convention. I was happy when the tour was over having gleaned the impression that while quite rich, W.R. Hearst was probably a huge douchebag and asshole to boot.
I was ready to hit the road again.
Not far from the castle is a beach where Elephant Seals come to mate. It's unmistakeable from the signs and huge crowds of people. But I had to stop. How often does one get to see Elephant Seals in the wild?
Back on the road I headed north towards Monterey with the intent of stopping at Julia Pfeffer Burns park, home to a secluded beach with waterfall. However, for this section, the road was the main attraction. Driving gloves on and tunes cranked I started on a pace that just slightly exceeded the posted limit, only stopping to take pictures as warranted.
Pulling into the State Park I happened upon a nice park ranger. He recommended that after I check out the beach view that I also head back into the woods, as there was another trail ending in a waterfall. We talked for a moment and then I headed off towards the beach. The view was amazing but people were everywhere. For a trip with the intent of getting away, I sure was surrounded by lots of people.
Taking the rangers advice, I headed into the woods. After walking for about 15 minutes or so I noticed that I was whistling to myself. I had finally started to relax.
These are the moments that I need to pay attention to more in my life. Too often I'm doing what I think I'm "supposed" to be doing and not what actually makes me feel peaceful or happy. I think I need to be outside more.
Continuing up the PCH, I headed towards Monterey. There was an aquarium to see. Using my phone I found a few budget hotels, but upon further inspection they all looked pretty sketchy. I decided to up the room budget for one night and booked a nice room using Hotel Tonight. It was worth it. Since I was splurging I found a nice French restaurant and had a Cassoulet for dinner. I probably should have stuck to my first instinct, which was to have the Duck Confit, but the Cassoulet was ok, if not a bit salty. I picked up some Duvel on the way back to the room and settled in for a little relaxation and TV.
The next day I knew I had to make it to the aquarium for the feeding at the Open Sea exhibit. Evidently 300 elementary school children had the same idea. Never the less, it was still pretty cool. The tank had Sun fish, turtles, sharks, tuna, bonito, and a school of sardines. Who would have expected that the sardines were the stars of the show? Watching them school was mesmerizing, but when a few poor individuals were separated from the group, it got really interesting. A Bonito, smelling dinner, hunted down and ate a few poor individuals much to the horror of the little children and to my, sadistic delight.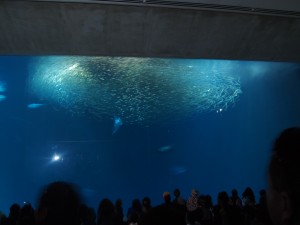 After the aquarium I once again headed north to meet a friend in San Mateo. I hadn't seen her since high school, but now she came armed with a brand new baby. It was good to catch up. We spent a few hours at a nice seafood restaurant until it was time for me to go. Stepping out, I was greeted by rain, something California needs very much. My mission tonight was to see how close to Solvang I could get, with the plan of trying to see it on my last day. About two hours out I started looking for a hotel. Finding one, I called and verified that they had rooms available. I was no longer on the PCH. It's a lovely road and I would have liked to drive it again, but at night, during the rain, and while trying to make time, it wasn't a good idea. Instead I bombed down the 101 in the rain, reaching the outskirts of Solvang just before midnight. After getting a bit lost, I finally located my hotel by it's large, fake windmill out front. The room was old but it would have to do. I was missing my comfortable bed from the night before.
Waking up the next day I found that it was still raining. Undeterred I headed into Solvang for a bite to eat. Figuring that the Danish probably had breakfast sorted out, I ordered some Danish pancakes. Flatter and larger than the pancakes I'm used to, they tasted fine, but not extraordinary. The rain was still coming down, but after making it this far, it seemed a waste to not walk around a bit. The weather had other plans. About a block from my car it really started to come down and by the time I made it back, I was thoroughly soaked. Clearly I wasn't going to see Solvang today, but what to do?
It wasn't too much further to LA, so I decided to go ahead and drive to the Getty. Rain and LA is not an optimal combination for traffic in Southern California and by the time I made it to the Getty, I was feeling irritable again.
The Getty is a massive complex with all kinds of art to see. I can imagine that it's quite easy to spend and entire afternoon there, and as it was, I was there for several hours. Why do people think it's totally fine to have normal volumed conversations in an art museum? It's not and it makes me want to spin kick you into a priceless chest of drawers. Or perhaps a tapestry if you prefer?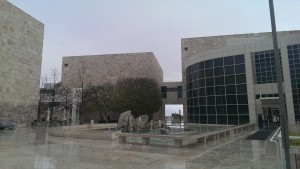 I finished up with the museum around 5 pm and it was still raining, not exactly the best conditions to attempt to drive home in. Pulling out my phone, I fired up Yelp and looked for ramen close by. It turns out that the Getty is very close to an area chock full of Japanese restaurants. I settled on Daikokuya on Sawtelle Boulevard. Traffic was a pain, but it was close by so I could tolerate it. After parking my car in the provided structure, I accidentally walked by the place and had to turn around. I was pleasantly surprised when I finally made it in. It was decorated to feel like you're eating outside in a crowded Japanese alley. I liked it immediately and the ramen was delicious.
After eating it was still much too early to leave for home. I had to work the next day and my usual approach is to stay up the night before so that I can sleep all day before work. Moving my car from the second floor of the garage to the top floor, I climbed into the passenger seat, reclined and took a short nap until it was time to make the drive home.
All in all, it was a good trip. If I were to do it again, I will probably connect to the PCH more around Morrow bay and avoid the traffic of LA. I would plan on doing more activities outside and away from annoying people. If I could, I would allocate more days to feel less hurried, but I'm still glad I did it.